La cerimonia di premiazione dei Goden Globe 2021 è fissata per il 28 febbraio ma intanto si può iniziare a fare pronotici sui vincitori dal momento che sono state ufficializzate le candidature. E la bella notizia è che nella categoria dei Migliori film stranieri, c'è il bellissimo lavoro di Edoardo Ponti "La vita davanti a sé" che vede Sophia Loren straordinaria interprete, al punto che si vociferava che sarebbe stata candidata nella categoria di migliore attrice.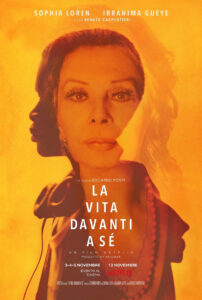 Riguardo questa edizione ci sono i titoli pronosticatissimi provenienti dalle piattaforme come Mank e Il processo ai Chicago 7 (Netflix) e One Night in Miami e Borat 2 (Prime Video); e quelli che hanno conquistato i grandi festival internazionali: Nomadland, Leone d'oro a Venezia e Pieces of a Woman che è valso la Coppa Volpi a Vanessa Kirby.
E ci sono film che ancor non si sono potuti vedere in Italia per i noti motivi: dal Promising Young Woman a The Father, passando per Palm Springs e Music.
Un'edizione che segna il dominio delle piattaforme e non solo per via della pandemia e della susseguente chiusura delle sale ma per la dinamicità mostrata nelle produzioni, e una grande attenzione alle questioni che erano e sono di grande attualità nel dibattito pubblico e politico americano: quella femminile, quella nera, quella più direttamente economica e sociale figlia della defunta era trumpista.
La nomination italiana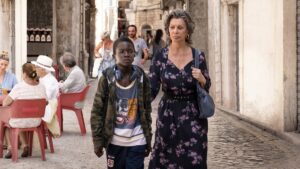 Intanto, come detto, ci godiamo la nomination tutta italiana. Il film è ambientato a Bari ed è tratto dall'omonimo romanzo, in originale La vie devant soi, dello scrittore francese Romain Gary, edito da Neri Pozza. La Loren interpreta il ruolo di una anziana prostituta ebrea e la sua recitazione è di una intensità straordinaria e resta intatto il fascino magnetico di una attrice che ha segnato la storia del cinema internazionale. Qui ricorda le sue pellicole del periodo legato al neorealismo italiano del Dopoguerra. Senza dubbio avrebbe meritato di concorrere anche per il premio personale, quello di migliore attrice.
Ecco tutte le candiature suddivise per le singole sezione del Golden Globe.
*****************
CANDIDATURE
BEST MOTION PICTURE – DRAMA
"Nomadland"
"Mank"
"The Father"
"Promising Young Woman"
"The Trial of the Chicago 7"
BEST MOTION PICTURE – MUSICAL OR COMEDY
"Borat Subsequent Moviefilm"
"Hamilton"
"Music"
"Palm Springs"
"The Prom"
BEST DIRECTOR
Emerald Fennel, ("Promising Young Woman")
David FIncher, ("Mank")
Chloé Zhao ("Nomadland")
David Fincher ("Mank")
Aaron Sorkin ("The Trial of the Chicago 7")
BEST ACTOR – DRAMA
Riz Ahmed ("Sound of Metal")
Chadwick Boseman ("Ma Rainey's Black Bottom")
Anthony Hopkins ("The Father")
Gary Oldman ("Mank")
Tahar Ramin ("The Mauritanian")
BEST ACTRESS – DRAMA
Viola Davis ("Ma Rainey's Black Bottom")
Andra Day ("The United States vs Billie")
Frances McDormand ("Nomadland")
Carey Mulligan ("Promising Young Woman")
Vanessa Kirby ("Pieces of a Woman")
BEST ACTOR – MUSICAL OR COMEDY
Sacha Baron Cohen ("Borat Subsequent Moviefilm")
James Corden ("The Prom")
Lin-Manuel Miranda ("Hamilton")
Andy Samberg ("Palm Springs")
Dev Patel ("Personal History of David Copperfield")
BEST ACTRESS – MUSICAL OR COMEDY
Maria Bakalova ("Borat Subsequent Moviefilm")
Kate Hudson ("Music")
Michelle Pfeiffer ("French Exit")
Rosamund Pike ("I Care A Lot")
Anya Taylor-Joy ("Emma")
BEST SUPPORTING ACTOR IN A MOTON PICTURE
Sacha Baron Cohen ("The Trial of the Chicago 7")
Daniel Kaluuya ("Judas and the Black Messiah")
Jared Leto ("The Little Things")
Bill Murray ("On the Rocks")
Leslie Odom, Jr. ("One Night in Miami")
BEST SUPPORTING ACTRESS IN A MOTON PICTURE
Glenn Close, "Hillbilly Elegy"
Olivia Colman, "The Father"
Jodie Foster, "The Mauritanian"
Amanda Seyfried, "Mank"
Helena Zengel, "News of the World"
BEST SCREENPLAY
Aaron Sorkin ("The Trial of the Chicago 7")
Chloé Zhao ("Nomadland")
Florian Zeller and Christopher Hampton ("The Father")
Jack Fincher ("Mank")
Emerald Fennell ("Promising Young Woman")
BEST ORIGINAL SCORE
Alexandre Desplat ("The Midnight Sky")
Ludwig Göransson ("Tenet")
James Newton Howard ("News of the World")
Trent Reznor & Atticus Ross and Jon Batiste ("Soul")
Trent Reznor & Atticus Ross ("Mank")
BEST ORIGINAL SONG
"IO SÌ (SEEN)" — "The Life Ahead"
Music by: Diane Warren
"SPEAK NOW" — "One Night in Miami"
Music by: Leslie Odom Jr, Sam Ashworth
Lyrics by: Leslie Odom Jr, Sam Ashworth
"TIGRESS & TWEED" — "The United States Vs. Billie Holiday"
Music by: Andra Day, Raphael Saadiq
Lyrics by: Andra Day, Raphael Saadiq
"FIGHT FOR YOU" — "Judas and the Black Messiah"
Music by: H.E.R., Dernst Emile II
Lyrics by: H.E.R., Tiara Thomas
"HEAR MY VOICE" — "The Trial of the Chicago 7"
Music by: Daniel Pemberton
Lyrics by: Daniel Pemberton, Celeste Waite
BEST ANIMATED FEATURE
"The Croods 2"
"Onward"
"Over the Moon"
"Soul"
"Wolfwalkers"
BEST FOREIGN LANGUAGE FILM
"Another Round" di Thomas Vinterberg
"Minari" di Lee Isaac Chung
"La vita davanti a sé" di Edoardo Ponti
"Due", esordio dell'italiano Filippo Meneghetti
"La Llorona" di Michael Chaves
CANDIDATURE SERIE TV
BEST TELEVISION SERIES – DRAMA
"The Mandalorian"
"The Crown"
"Lovecraft Country"
"Ozark"
"Ratched"
BEST TELEVISION SERIES – COMEDY
"Emily in Paris"
"Ted Lasso"
"The Flight Attendant"
"Schitt's Creek"
"The Great"
MINISERIES OR TELEVISION FILM
"Normal People"
"The Queen's Gambit"
"The Undoing"
"Small Axe"
"Unorthodox"
BEST ACTOR TV SERIES – DRAMA
Jason Bateman, "Ozark"
Josh O'Connor The Crown
Bob Odenkirk, "Better Call Saul"
Matthew Rhys, "Perry Mason"
Al Pacino, "Hunters"
BEST ACTRESS TV SERIES – DRAMA
Olivia Colman, "The Crown"
Jodie Comer, "Killing Eve"
Emma Corrin, "The Crown"
Laura Linney, "Ozark"
Sarah Paulson, "Ratched"
BEST ACTOR TV SERIES – COMEDY
Don Cheadle, "Black Monday"
Eugene Levy, "Schitt's Creek"
Nicholas Hoult, "The Great"
Jason Sudeikis, "Ted Lasso"
Ramy Youssef, "Ramy"
BEST ACTRESS TV SERIES – COMEDY
Lily Collins, "Emily in Paris"
Kaley Cuoco, "The Flight Attendant"
Elle Fanning, "The Great"
Catherine O'Hara, "Schitt's Creek"
Jane Levy, "Zoey's Extraordinary Playlist"
BEST ACTOR – MINISERIES OR TELEVISION FILM
Bryan Cranston, "Your Honor"
Jeff Daniels, "The Comey Rule"
Ethan Hawke, "The Good Lord Bird"
Hugh Grant, "The Undoing"
Mark Ruffalo, "I Know This Much Is True"
BEST ACTRESS – MINISERIES OR TELEVISION FILM
Anya Taylor-Joy, "The Queen's Gambit"
Shira Haas, "Unorthodox"
Nicole Kidman, "The Undoing"
Cate Blanchett, "Mrs. America"
Daisy Edgar-Jones, "Normal People"
BEST SUPPORTING ACTOR – SERIES, MINISERIES OR TELEVISION FILM
John Boyega, "Small Axe"
Brendan Gleeson, "The Comey Rule"
Dan Levy, "Schitt's Creek"
Jim Parsons, "Hollywood"
Donald Sutherland, "The Undoing"
BEST SUPPORTING ACTRESS – SERIES, MINISERIES OR TELEVISION FILM
Gillian Anderson, "The Crown"
Helena Bonham Carter, "The Crown"
Julia Garner, "Ozark"
Annie Murphy, "Schitt's Creek"
Cynthia Nixon, "Ratched"